5 things to do in Garraf Park
El Garraf is a natural park located just 20 minutes from the city of Barcelona. Despite it's still very unkown, it has a wide range of cultural, recreational and relaxing activities. The name Garraf comes from Garrofer, which in Catalan, the local language, means Algarrobo or Carob Tree. The carob tree is a very popular Mediterranean tree found throughout the park. Its pod-shaped fruit comes out in late summer and early autumn. It has a mild sweet taste and its flour is usually used for pastry or as a substitute for cocoa. Like many other plants in the area, this is also a plant that has several properties that benefit our health.
Leaving the pastry aside, we return to focus on discovering how wonderful Garraf Park is!
If you like to explore small villages, here you will find one of the most renowned villages in Spain: Sitges. Sitges used to be a fishing village in the past and over time it has become one of the main places in Catalonia to holiday. It is characterized by its beautiful cobbled pedestrian streets, its long promenade, its houses with Mediterranean architecture, its varied gastronomic offer and its beautiful beaches with crystal clear waters. Just 10 minutes from Sitges, you will find Sant Pere de Ribes. A very small town, more local and less international than Sitges, where it is worth sitting down in the afternoon to have a drink in the Plaza Marcer, the main square or in one of its traditional bars.
Maybe villages are not your thing and you prefer to immerse yourself in nature to disconnect from the city, well, this is also your place if this is what you're looking for! The Garraf has many mountain trails of all levels and for all tastes. You will find caves, forests, hermitages hidden in the woods, farmhouses, paths overlooking the sea and perhaps you will meet some of its inhabitants; rabbits, boars, martens, etc., although there is nothing to worry about, they are afraid of us and usually run away as soon as they feel our steps.
Cycling is also a great option to explore this park. There are plenty of routes for mountain biking, and you'll also find something for every level, for beginners as well as for the more experienced!
Sometimes we just want to be on the beach and spend a good afternoon of sun and sea. Well, the good news is that in this area the beach can be enjoyed almost all year round! Believe it or not, until November and from March you can still find days so hot that they can almost be mistaken for those intense ones is summer. The water temperature is cool but still hot enough to take a bath. A great plan to do on the beaches of Sitges during autumn or spring is to rent a paddle board, a kayak or a windsurf and take a ride to discover another panorama of the town. You will certainly be charmed! By the way, the sea in this area is usually quite clean, however if on your excursion you find a piece of plastic floating, pick it up and throw it away in a trash can as soon as you get to the beach, surely the sea and its animals will appreciate it!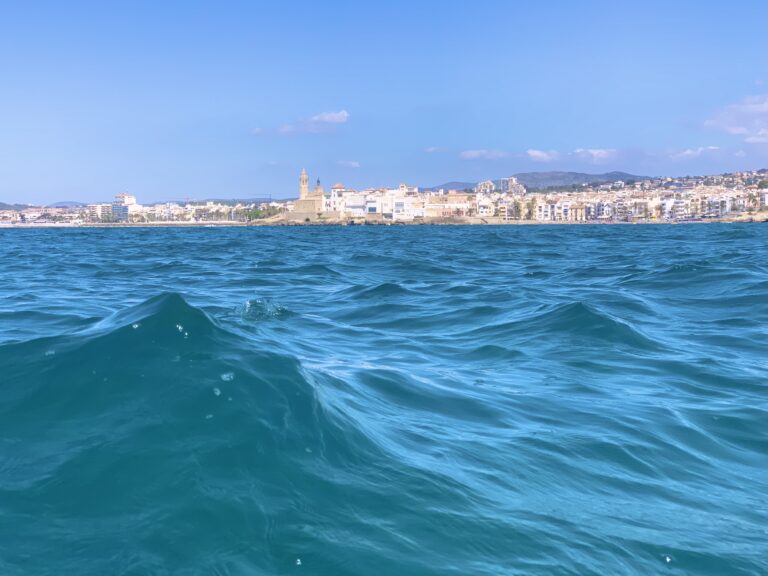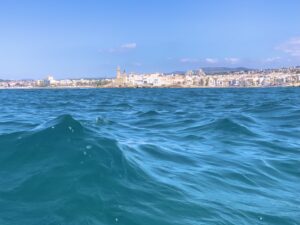 Sometimes our holidays are just to relax and drink a nice wine in the afternoon. If you're looking for this, this is your place too! For example, one of our guests' favorite plans is to have a wine tasting offered by Puig Batet (@puigbatet) among their vineyards or in the masia where they're staying. The truth is that we have to acknowledge the great work they do, because they grow the grapes and produce the wine, it's ecological and supports local commerce.
Another great plan is to stay in one of the old farmhouses located within the park. You will discover old houses full of stories and simple but dazzling architecture. For example, our Masía Can Parès is a 16th century farmhouse with 20,000sqm of private gardens, with recreational areas, orchard, a swimming pool and relaxation areas. Once you're here, you'll probably think it twice before leaving! We tried to preserve many original aspects of the house and combine them with Balinese style objects and decoration. Each farmhouse has its own style and one or the other will adapt to what you are looking for depending on your needs. We are part of the Asociació de Turisme Sostenible Parcs Garraf, Olèrdola i Foix that unites the whole network of farms and sustainable plans that you can find in these 3 parks, if you are interested to know more information you can search them on social media as @somturismesaludable.
Speaking of sustainability, if you haven't noticed, the best thing is that all the plans mentioned above are completely sustainable! You will be supporting fair and local trade, there is no need to travel long distances to get from one place to another and there is no waste that is harmful to the environment. Since nowadays it has become so important to measure our environmental footprint, here you can feel at peace with this and find a good balance! This is called sustainable tourism, tourism that enjoys the environment and nature but with a very low impact.
In conclusion, the Garraf Park is a hidden gem, because it has so many different options that you can enjoy, from its beautiful beaches, or get lost in the mountain paths, enjoy its Mediterranean architecture, relax enjoying a wine tasting or just stay and spend your days in a farmhouse appreciating the surroundings and feeling in peace.