In Sitges you'll find everything!
If you are looking for culture, nature, fun, relax or good food, Sitges will be a place that adapts to your needs. It is a town located in the province of Barcelona next to the Garraf Natural Park just 35 minutes from Barcelona city.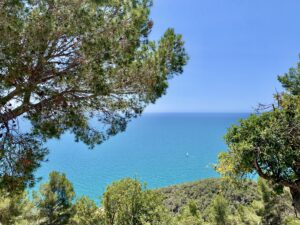 Culture:
Sitges has some of the most recognized cultural events in Catalonia and Spain.
There is the Carnival, which is celebrated in February, a day when the town is completely transformed and people go out to the streets dressed in costumes to enjoy good music, parades and parties. It is suitable for all ages, during the day more families and children are seen and at night more young people and couples.
There is also the International Fantastic Film Festival (@sitgesfestival) that takes place in October. It was the first fantastic film festival to be held in the world. In addition to the wonderful film content that it offers, there are also days where zombies take over the streets and the atmosphere of the town revolves around the festival.
In the summer, music comes to life with the Terramar Music Festival (@terramarfest). A few days where well-known and excellent artists come to exhibit their musical work in the Parque del Terramar.
In addition to these, there are other very striking and fun events that occur throughout the year. There are the festivities of Santa Tecla, the Fiesta Mayor, Corpus, the Bear Festival, Gay Pride, exhibition of old cars, among others.
Sitges is a municipality that also has a lot of history. A tour of the town among its museums, old buildings and pedestrian streets, gives us an idea of ​​what this place was a few centuries ago. You can also visit the farmhouses that are in the Garraf Park such as our Masía Can Parès (@clubhouse_27) dating from the 16th century and others that can be found within the Sustainable Tourism Association (@somturismesaludable), which carry stories from other times between their walls.
Nature:
Sitges is next to the Garraf Natural Park and is located on the Costa Dorada of Catalunya. This means that it has a great offer of hikes and mountain activities, as well as beautiful beaches with crystal clear waters. This is a good area for those who like being outdoors, amazing walks, caves, wine tasting, ethnobotanical workshops, mountain bike routes, among other fun plans. Just half an hour from Barcelona, ​​it's a good place to breathe fresh air and escape from the rhythm and noise of the city.
Fun:
There are fun events for the entire age range. Both for families who want to spend a few quiet days doing daytime activities and for young people who are more interested in socializing and having a fun night in town. It is also a quite romantic place, because between the farmhouses and the range of activities, there are all kinds of possibilities, for weddings, honeymoon or simply spend a few days as a couple.
Relax:
If what you are looking for is to disconnect from the routine, this is the place to escape. You can bring your computer and work in a cafe overlooking the sea; you can go to the beach and enjoy the blue skies, enjoy good food or just take a walk through the town and change environment. Within the park there are also routes that require little physical effort for those who would like to go for a walk in nature but avoid very demanding activities.
Good food:
Sitges has the full range of gastronomic options. There are quite a few restaurants overlooking the sea and very good fresh seafood, paellas, fideua, etc. But if vegetables are your thing, it also has quite a few vegetarian or even vegan options.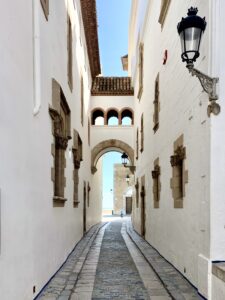 In conclusion, this is just a brief summary of all the activities and the range of possibilities to do in Sitges. It is a place for all tastes and all ages. For both culture and history lovers as well as for nature and outdoor lovers.Tthroughout the year, it celebrates many events very well-known around Catalunya and Spain. It is a great place to find nature, peace, culture, party, good food and beautiful beaches. It's a fairly multicultural place, people who live and visit come from the most remote places in the world, however it manages to preserve its wonderful essence and Catalan tradition.