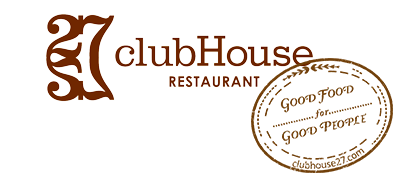 Good food for good people!
When you get in our restaurant a feeling of calm fills you and you are you moved to a totally unexpected setting.
ClubHouse27 is a Mediterranean restaurant situated in the heart of the Garraf Natural Park, only 5 min. from Sitges and 30 min. from Barcelona. The relaxing atmosphere with touches from Bali makes everybody feel at home. All the details: the Mediterranean-Balinese style deco, the humanity, the warmth of the team and the gastronomic proposals make you feel welcome and safe. You will enjoy the best moments with yours.
Our gastronomical proposal offers receipts from multiple locations around the world provided each member of this family thinking on your pleasure and wellbeing.
All our ingredients are first quality products like our vegetables that come from our own garden and all other ingredients are Eco and locally sourced.
We cook with our heart and we feel proud of being part of Slow Food Garraf-Penedes.
We, at ClubHouse27 know your needs and we grow with you every day. Therefore, at our Menu you will be able to choose between a gastronomical selection of gluten-free, vegetarian or vegan proposals.
Pleasure and wellbeing are always on our mind, so you cannot miss the best wines of our land to pair your experience. And for the coffee lovers we have a Fairtrade coffee full of scents.
By the Way, in our restaurant ClubHouse27 as in our Villas pets are welcome
Our commitment to the SDGs and your well-being are of vital importance to us. All our materials; aprons, tablecloths, napkins, water bottles … are treated sustainably using resources such as water-based paints, recycling, reuse and avoid as much as possible any contaminating component such as plastic. We apply the most compromised hygiene systems on the market.
We know that well-being and happiness are synonymous. The best gift we can offer you is: Good food for good people!
COME & DISCOVER!
OUR RESTAURANT
Recipes from all around the world that fill you with pleasure and well-being in an environment of calm and nature.
THE SPACES
KNOW OUR RESTAURANT
The different spaces you can enjoy in ClubHouse27.
The Main Building
Entering the restaurant building you will be surrounded by ClubHouse27's characteristic decoration imported from Bali, as white washed furniture, Asian sculptures, colorful art, flowers and plants.
Big room with 70 seats, heating/AC, daylight, private access to outdoor lounge.
Small room with 25 seats, heating/AC, fireplace, daylight, private access to terrace and 2 toilets.
Basement room for parties with pace for max. 100 guests standing. Access to 2 toilets and outdoor terrace.
In the basement we have a shop with decoration items from the restaurant. Take the ClubHouse27 style to your home.
Terrace
The welcoming terrace seats up to 100 guests. It's decorated with rustic tables, chairs and benches, and could be a perfect option for a private cocktail reception for special celebrations.
On the terrace area, during spring and summer there is shade and a nice breeze from the fans. The autumn sun reaches the terrace as well, and with a blanket and heaters you still can enjoy the area during chilly days.
Outdoors
The exterior lounges invite for a relaxing morning coffee or an afternoon break. It's also a nice option for private outdoor meetings and meals.
We provide a comprehensive service for your event. Decoration, menu orientation, minutes, music, special cakes … even if it is something more serious like a business meeting we have private spaces for it.
Room decoration as balloons.
Personalized flowers on the table.
Private meeting areas with screen, beamer, white board, coffee breaks.
Birthday cake.
Wedding cake.
Private party in our basement with DJ, disco lights, open bar.
Exclusivity of our restaurant for your group.
Catering at one of our venues or at your home, from cosy family dinners to celebrations, from an informal BBQ to a tasty 5 course menu.
FROM 2007!
OUR HISTORY
Aleks and Tim founded ClubHouse27 in 2007 and from that moment they developed their concept "Good food for good people" introducing new services and installations.
2007 – Opening Bar ClubHouse27 at Club Tenis Ribes
2008 – Restaurant license
Opening villa Masia Pairal
2009 – Incorporation of in house service at Masia Pairal
Renovation and opening Masia Cal Mingo, Viladellops
2013 – Renovation of villa Can Parès
2014 – Opening of villa Can Parès
Change of location and opening restaurant on actual location
2015 – Opening shop "Take the ClubHouse27 style to your home"
Get in contact with us
Contact
Thank you again for making making our spcial day so amazing. Everyone has raving about the villa, the food and Gigi!
It is a really beautiful house and surrondings. The staff are very nice and helpfull. I can only recommend this place.