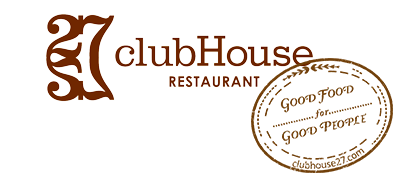 COME & DISCOVER!
REAL FOOD
Recipes from all around the world that fill you with pleasure and well-being in an environment of calm and nature.
We provide a comprehensive service for your event. Decoration, menu orientation, minutes, music, special cakes … even if it is something more serious like a business meeting we have private spaces for it.
Room decoration as balloons.
Personalized flowers on the table.
Private meeting areas with screen, beamer, white board, coffee breaks.
Birthday cake.
Wedding cake.
Catering at one of our venues or at your home, from cosy family dinners to celebrations, from an informal BBQ to a tasty 5 course menu.
FROM 2007!
OUR HISTORY
Aleks and Tim founded ClubHouse27 in 2007 and from that moment they developed their concept "Good food for good people" introducing new services and installations.
2007 – Opening Bar ClubHouse27 at Club Tenis Ribes
2008 – Restaurant license
Opening villa Masia Pairal
2009 – Incorporation of in house service at Masia Pairal
Renovation and opening Masia Cal Mingo, Viladellops
2013 – Renovation of villa Can Parès
2014 – Opening of villa Can Parès
Change of location and opening restaurant on actual location
2015 – Opening shop "Take the ClubHouse27 style to your home"
We all had a wonderful time and a perfect wedding day. The villa and food was amazing - our compliments to all the staff. Thank you & Best wishes!
Super séjour dans la villa Cal Mingo en groupe de 16. La villa est spacieuse et très agréable. Nous sommes bien reposés and heureusement que la villa est bien isolée! Merci per ce beau séjour!